Helmetopedia.com is a participant in the Amazon Services LLC Associates Program, an affiliate advertising program designed to provide a means for sites to earn advertising fees by advertising and linking to Amazon.com
Painted helmets can be an excellent method of showing off your personality. It is capable of transforming essential safety equipment into attractive accessories and it helps us carry on with a good deed of wearing the right sized helmet. Before painting a helmet, lets check if that paint will be safe to apply and how we can go about it.
Some paint solvents can corrode your helmet's materials and reduce effectiveness. Once you have determined that you have a safe color to paint the parts you desire, sketch up an outline, and start.
How do I paint motorcycle helmets?
In some cases, restorations include painting the chassis and lining of a motorcycle helmet. The owners often want to make the bike look more professional.
The customization of motorcycling equipment has occurred in motorcyclists from the earliest days, which require knowledge and patience.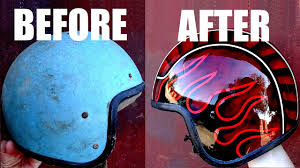 Painting your helmet is a fairly simple task. A house mechanic can transform standard helmets into custom-made units using essential painting equipment, including a paint gun and airbrush by doing custom paint job.
All helmet models are available in varying colors, styles, and prices which makes it easy to pick and choose from.
Motorcycle Helmet vs. Paint Chemistry
If a person is going to paint the helmet, he will depend a lot on the chemical properties of the paint. Once you are done with that, the next step is to know which color you can use.
Secondly, the dyes may react with the helmet material and reduce their protection by changing their chemical composition. It is worth noting that you need some safety precautions when painting the paint on your motorcycle helmet.
Requirements For Painting A Motorcycle Helmet
Before starting painting the helmet, there are certain necessary items you should must-have.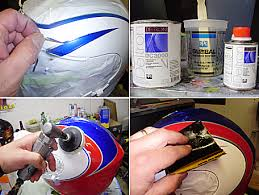 These are:
Helmet
Paint
Painters tape
Rubbing and Polishing compound
Clean rags
Door edge trim
Grease remover
Drying machine (paint dry)
Stepwise Guide For Painting Motorcycle Helmet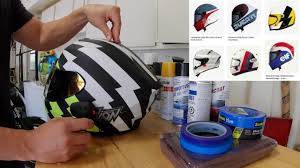 The given points are the critical steps for painting the motorcycle helmet in the best way so that your helmet will look stunning and attractive among all other helmets.
Preparation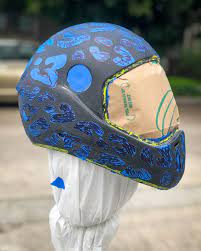 The steps begin with the preparation and installation of the tools. It is necessary to keep your workspace dry and clean.
Protip: Mounting the helmet with a mannequin Styrofoam TM head and lifting it to an adequate height can simplify work.
The helmet's visor must be removed along with plastic accessories like vents to protect them from paint colors.
In the initial steps, the entire surface of the helmet is cleaned by removing mild detergents or dishwashing powders. You can follow that by employing specialized wax and grease removal agents.
Sanding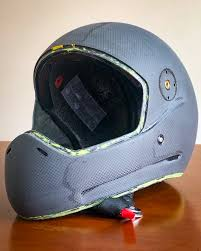 You must ensure you sand through the entire helmet of the two-wheeler and be careful to sand the venting edges for a perfect color later on the helmet and also for removing the existing paint.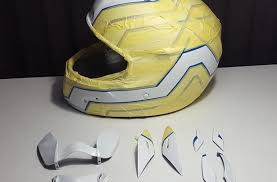 Second, removal/flatting stickers is crucial. Please be sure everything is going smoothly so far.
Make The Surface Rough
When you paint a motorcycle helmet, apply sand or Scotch Brite scrub on the old helmet, the surface of that helmet becomes rough, which helps in the adherence of the paint on the whole helmet. As a result, the paint sticks over the helmet surface.
Optional: Guide Coat
Initially, apply guide coating and drench them. This guide coat helps you recognize highs and lows by using dark-colored primers.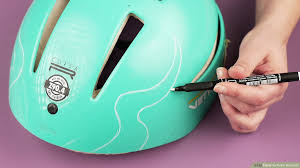 If you've identified a high or low, you should sand this until it gets flat. You can rinse it with water or soap.
In case you want to spray it, remember that it is vital to sprinkle gently. You can use these coats differently depending on what you like best. For a more effective result, we recommend applying paint in three coats.
Masking Out The Design
After All remaining fittings and stickers have been removed, it is recommended that, ideally, the same layer of paint is used along with a vinyl tape of 18-inch thickness.
Firstly, the paint can be applied (Basic coat), but the color must remain wet before application of the second coat in a bid to avoid runs and scratches. Immediately after the base coat is dry, it is possible to add an image.
It's necessary to avoid touch with the skin; therefore, you need to wear gloves.
A lot of attention is given when the masking tape is applied to the final product to ensure symmetry.
Paint Your Color
Now it is our aim. Pick the color that suits you and spread it evenly. Red, orange, navy blue, or black shades appear great on my helmet.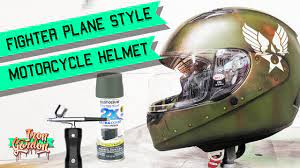 It is best to have three coats to make the colors look attractive. You must let it fully dry before proceeding. At this level, you need to be extra cautious because you are near to the final results.
Painting Different Colors
If you want to paint different colors on separate parts of the helmet, that completely doable.
First, you need to put the main components of the bike helmet in a dry place and apply the different base paint on them. Let them dry.
Now apply the clear coats over it for about an hour or more. Once the clear coat dries on the painted surface, you can use the additional transparent coat layers if you aren't satisfied with the previous color results.
Clear Coat
This step is essential. It protects your efforts, so don't underestimate it.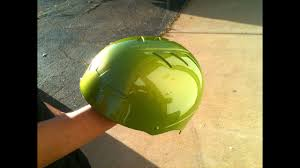 You can get either matte or shiny, but I prefer the latter, which looks better. Put in a couple of coats and let it dry. You can also try urethane clear coat.
Priming And Drying
Apply 2 x 3 coats of primer and allow it to stay overnight. It is advised to utilize masks when painting.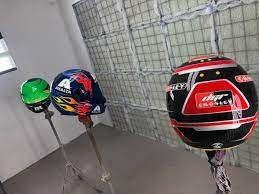 At last, let the helmet painting completely dry. Once the paint dries completely, your wearing helmets are ready to be taken with you on every ride.
Remove The Masking Tape
One more step is to remove the masking tapes from the painted helmet. This masking tape has protected your helmet parts from getting untidy and dirty throughout the process and helps add more coats of paint without any fear.
Place The Visor Back On The Helmet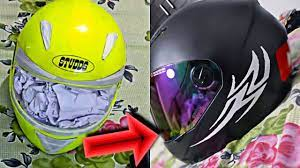 As the visor is an essential component and provides extra protection to the bike rider, once all the points are completed, place the visor back in your helmet so that you can enjoy the safe journeys on your bike.
Directions To Paint A Helmet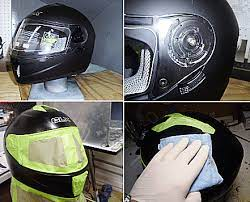 Never blend different paints.
If you have recently painted the helmet, don't paint it again.
There are safety labels on the bike helmets, don't paint on them and let them appear clearly.
If your helmet comes with special instructions of not painting it with any particular paint, then you should recognize this in mind while choosing the color for the helmet.
You can also try water-based acrylic paints.
Don't make the surface rougher than required by applying more sand over it.
If you are going to sprinkle paint on the helmet, try using an airbrush, as it is safer.
Apply the paint when the surface is cleaned with a lint-free cloth. Remember, don't apply the second layer of paint until the previous one dries completely.
The safest paints to be used on helmets are water-based paints.
The glossy finish will make the helmet more perfect.Frequently Asked Questions
What type of coloring should I apply on my motorcycle helmet?
There are many choices for DIY painting services.
Two good paint options for helmets are acrylic paint and spray. Sprinkle paint can be applied on motorcycle helmets and achieve an urban look. Apart from this, you can purchase them in almost all hardware stores.
DIYers should choose urethane rattle spirts as they are cheaper. Check manufacturer's recommendations for safe usage in a secure environment.
A freehand artist can use acrylic paint.
Airbrushing fans can use acrylic paint or ink and some enamel colors.
Using the compressor spray painting, use some N. cellulose and 2 k colors to achieve the desired effect. Always check the manufacturer's instructions. You may need the base coat to cover all surfaces — from paint and base coats to clear coating.
Can motorcycle helmets be painted?
Yes, motorcycle helmets can be painted quickly if the steps are followed attentively and adequately. Painting helmets can give the aspiration for the freedom that can accompany lifestyles one wishes to remember and cherish.
The benefit is the opportunity to do so without restrictions on local laws or technical difficulties. The Standard Safety Certificate governs all motorcycle helmet sales. Imported motorcycle safety equipment carries safety ratings from DOT ECE SHARP and SNELLE.
How to paint hoodie helmets without sprays?
To paint a hoodie helmet without drizzle, remember that If you do not apply any clear coating, the color might flake away as it's drying out. Consider using a primer (base color) to ensure it stays on.
How to swirl paint a motorcycle helmet?
An online retailer can paint a worn helmet for $30 using Krylon Fusion White Spray Paint and two bottles of Testors enamel paint and transparent paints.
How do you prepare a two-wheeler helmet for painting?
You can prepare your motorcycle helmet for painting by removing all the plastic and other parts and stickers from it. Once you remove all the parts, apply wet sand to it to make it rough and make the surface even. Now your helmet is ready to use paint on it. Applying two or three coats of paint over its surface is better.
Can you dye a motorcycle helmet with spray paint?
Yes, you can also use spray paints to paint motorcycle helmets. Spray paints are more accessible to be applied rather than brush paints. They are also long-lasting and cool. If you can use spray paints, you should go for it.
What is the greatest way to paint a helmet?
The top ways to paint a helmet are spray painting and brush painting. For this, you primarily need to put all the necessary items in a dry place. Once you have the required products, you can quickly start painting the helmet.
Last Words
Painting the helmet will enhance the overall look, and your motorcycle helmet will look more modern once you correctly paint the helmet's outer shell. The final clear coat and the matte finish will make the bike helmet magically excellent.
Paint your motorcycle helmet to protect it from corrosion and other destructive impacts. Paint the helmet surface in any of your favorite colors, either light or darker color.
In short, helmet paints are a better option to make your old helmet astonishingly new and modern. For more information, you may refer here to learn about painting your motorcycle helmet!